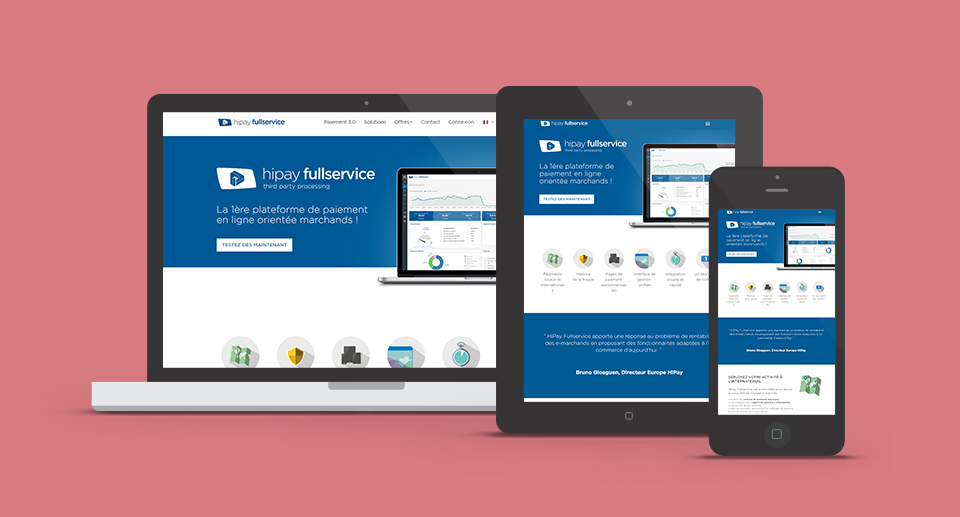 Today, HiPay focuses on responsive design. Over the last few years, Internet browsing and online purchases on mobiles and tablets have skyrocketed . In 2015, 55.70% of French people are mobile users and 29.10% are tablet users*. Internet browsing and online purchases on mobile devices are now a real tendency that e-tailers have to take into account.
To be or not to be responsive to new browsing patterns
Aiming to better meet users' expectations depending on the terminals they use, responsive design websites offer a solution for browsing on multiple devices . Content thus adapts to screen size and features s in order to improve user experience.
The first goal of responsive design websites is to offer a more comfortable browsing experience, regardless of the support. This system enables to use a wide range of devices without affecting visual comfort or having to zoom in or out, which could disturb users. To summarize, responsive design has now succeeded to design and shows to users that e-tailers have taken in consideration their expectations, thus strengthening their brand image.
Responsive design is not an option anymore
Meeting responsive design standards is now crucial for websites. Since April 21st , 2015, Google gives preference to "mobile friendly" websites in search results. This decision shows well the importance of having a website adapted to Internet users' new habits. In the end, a website which will not be developped in responsive design is likely to go down in rankings.
Moreover, Google recently announced that in 10 countries, including the United States and Japan, searches done via mobile devices outranked those made on desktop computers!Internet users' behaviours are changing drastically and it is important for e-tailers not to miss their transition to mobile if they do not want to see their conversion rate drop.
Fully aware of e-shoppers' browsing habits, HiPay offers on its Fullservice interface payment pages entirely in responsive design .
On e-commerce websites, payment is a critical step in finalizing transactions. That's why HiPay ensures merchants an optimal success rate thanks to payment pages in responsive design fully adapted to buyers' habits, thus offering a smooth payment flow, adapted to their expectations.
*Source: Médiamétrie, L'année Internet 2014, Feb. 2015