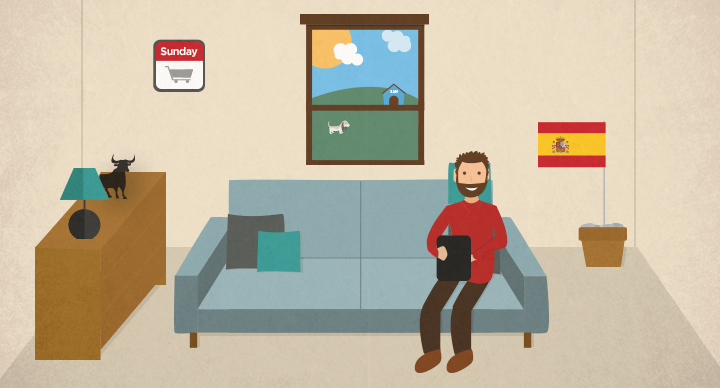 Today, HiPay is having a look at online sales in Spain. This country is particularly affected by the economical crisis but may have found the solution: e-commerce. Half of the Spanish Internet users buy online and the number of e-boutiques never stops growing.
What are the purchasing habits?
Spanish people mostly see online sales as utilitarian. In fact, for now, e-shoppers tend to use the Internet to buy services, like train tickets or hotel and restaurant booking. Collecting information is easy and can be done without moving or making contact. Moreover, the risk taken and the chance to have a bad surprise are minimal.
The main hindrance to online purchase is mostly due to the insecurity felt when giving personal data on the web and the fear to not receive the product as it was described, or used and damaged. The objective is to overtake the strong street culture in Spain, where customers still prefer to buy in stores than online. It is therefore not rare to see Spaniards comparing prices for a product online before ultimately buying it in a store.
However, new technologies tend to modify these behaviors. For instance, we notice the emergence of a new phenomenon called the "iPad Sunday", which regroups all purchases only made at home on Sunday, since 90.7% of Spanish customers buy online from their house and rarely use their smartphone to do it.
Who is the Spanish cyberconsumer?
Mostly between 35 and 49 years old, the Spanish cyberconsumer lives in an urban center and belongs to the medium or high social class. He or she works full-time and earns on average between €1,801 and €2,700.
Some key figures on this market
58 million transactions have been registered during this period, which represents a growth of 24.30% compared to 2013.
We also have to note that cross-border purchases are really important and represent 56% of the transactions. Spanish e-commerce is often asked by foreign buyers because 8% of the global revenue comes from them.
What are the favorite payment methods?
It is more usual in Spain to use a credit card to complete an online transaction and the number of users has never stopped growing. This is why, in order to increase their conversion rate, e-tailers have to secure their payment pages. E-wallets remain in second position because their secure pages reassure e-shoppers.
It is interesting to notice that prepaid cards are skyrocketing. Bank transfers and other payment methods are, for their part, not used often.
During the third quarter of 2014, the e-commerce grew about 24.70% compared to the same period from the previous year, and exceeded 4.1 billion euros.
*Study conducted by the Comisión Nacional de los Mercados y La Competencia (CNMC)