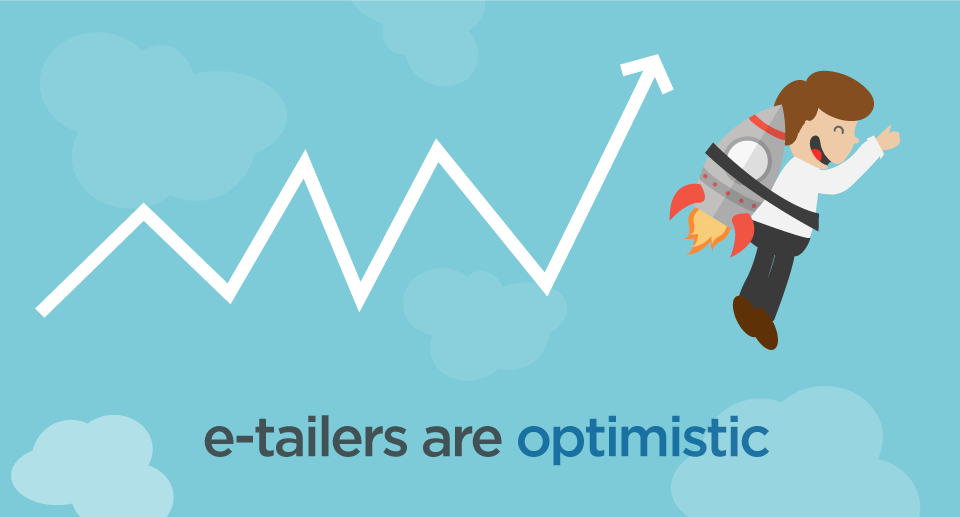 To understand how French e-tailers feel according to their sector, the FEVAD recently conducted the 4th edition of a study among major French e-commerce websites' Executive Directors, revealing that 82% of merchants are optimistic despite adverse economic conditions and that over 78% are even expecting a turnover increase.
E-tailers are optimistic
Yet, they stay clear-headed about potential evolutions of the e-commerce market since80% are considering websites closures or concentrations. However, they are just a few to imagine the upcoming of new e-commerce major actors (22%) or to foresee major future fundraising opportunities (48%).
E-commerce, a sector that is doing well
Figures are not surprising since the French e-commerce market is growing year after year. We just have to look at specific results to realize that online buying in France is constantly on the rise
To confirm its good health, for the 1st quarter of 2015, e-commerce registered a 13.5% growth. In2014, there were 33.5 million e-shoppers and 138,000 active websites for a transaction amount of 51.1 billion euros. With a 11.5% growth between 2013 and 2014, we can see that the French e-commerce market is constantly growing.. This is indeed a really good score compared to traditional commerce which recorded a 1.1% growth for the same year.
Planned investments
Among e-tailers who took part in the survey, several planned to invest. In what fields? Data processing (33%), international outreach (26%) and marketing/advertising (26%) come first. As for channels, e-tailers consider focusing on their website (77%) and on mobile (50%).
Going abroad, a lever for development
More than half of the surveyed e-tailers (64%) are present on the international scene. Among those who are not, 14% are considering expanding their business abroad. Several implementation strategies can be chosen: pure players prefer to implement their business from France whereas retailers plan to set up subsidiaries locally. The favorite destinations are Belgium (79%), Spain (60%), Germany and the UK (51% for both of them).
"At HiPay, we understand e-tailers' new issues. We simplify tasks related to international transaction management, such as risk and reconciliation, to allow merchants to only focus on their business development", specifies Bruno Gloaguen, COO Europe at HiPay.
This survey and these statistics about e-commerce reflect the good health and the vitality of this sector.