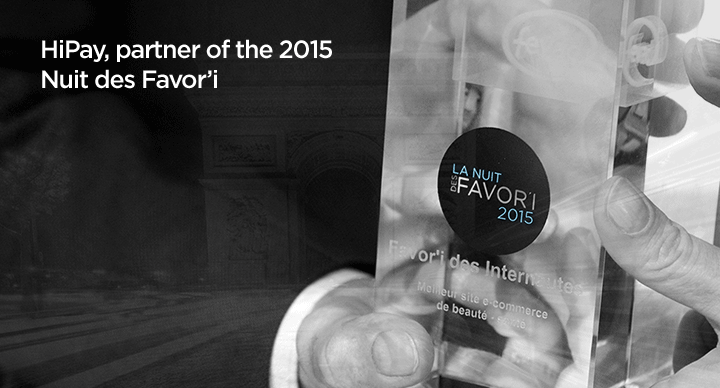 The 9th edition of La Nuit des Favor'i will take place on December 3rd at the Pavillon Gabriel. Hosted by the FEVAD, it rewards each year the best French e-commerce websites. This year again, HiPay will support the event by giving the award for the most promising e-commerce website.
La Nuit des Favor'i in a few words
The countdown is on. In exactly sixteen days, fourteen e-tailers will be rewarded in several categories:
Last November, the Jury, composed by professionals, experts and e-commerce enthusiasts gathered in order to choose the three winners of the Favor'i du Jury.
Who, among Airbnb, Hello Bank, La Redoute, Meetic and Zalando, will win the "Communication" prize? Which website stood out by its "innovation": Auchan Direct.fr, La Redoute, Mes Docteurs, Sephora or Undiz Machine? Which e-tailer will receive the "New website" award among Booking.com, Eram, Fnac, Haribo and Voyages SNCF.com?
Internet users actively participate in the event and can vote for their preferred website among eight categories: best fashion website, best technical products website, best travelling website, best house furniture website, best food website, best mobile website/app and best B2B website. One e-merchant per category will be rewarded by the Favor'i des Internautes.
Supervised by the Médiamétrie Institute and based on a representative panel of French e-shoppers, votes take into account five criteria: choice of the offer, ergonomy, price-quality ratio, customer service and CSR policy. Let the best ones win!
Three promising e-commerce websites
Finally, to end this evening: the award for the most promising website! The Jury will award the Gold, the Silver and the Bronze prizes to the three French e-commerce shining stars. Let's keep our fingers crossed for Batiwiz.com, Brocantelab, Hellocasa.fr, La Belle Assiette, Little Cigogne and Mon Echelle.fr!
HiPay wishes good luck to all the participants of this prestigious contest!