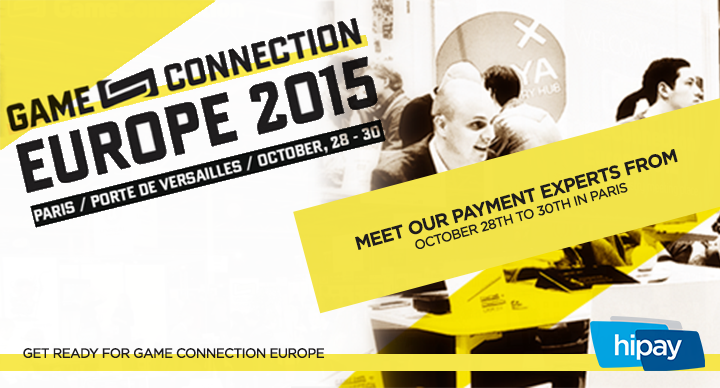 Not-to-be-missed by gaming professionals, Game Connection will take place in the Exhibition Center, Porte de Versailles, during the Paris Games Week. Like every year, HiPay will be pleased to welcome you from October 28th to 30th, 2015.
Game Connection Europe, the major B2B gaming event of the Fall
Every year, this international event gathers on average 2,700 decision-makers, 250 buyers (publishers, distributors, developers and service providers) and 1,200 journalists from over 50 countries.
It is the occasion for visitors and exhibitors to attend conferences and masterclasses dedicated to video games: the trends and future of this sector in Europe will be the keywords of this new edition.
What about gaming in Europe?
Mostly supported by Germany, the UK and France, the video game industry is doing well in Europe, and this trend should keep on going in 2015. These three countries should be ranked this year in 5th, 6th and 7th positions worldwide for a combined revenue of 9.7 billion euros*.
The other European countries won't be outdone either. Even if the UK has the world's most important "buyer/player" ratio (61%), Russia's and Poland's ratio are very satisfactory and accounts for 52%, which is almost twice as high as in China, the biggest market worldwide. However, the award for the biggest spenders in Europe goes to French buyers who, according to economists, should spend on average €146 in 2015.
HiPay's payment experts will be glad to show you during these three days the best payment methods for your video games to help you optimize your conversion rate.
*Studies conducted by Newzoo, 2015