The 13th edition of the most significant event for e-commerce in Italy will take place on May 30th and 31st. The occasion for us to make a quick recap of this market!

The Italian Market Is Going Well
As the 5th e-commerce market in Europe, Italy is often forgotten… but wrongly! In 2017, the sector registered a revenue of 23.63 billion euros. An increase of 16% compared to the previous year. The regular buyers (around 16,2 million people) spent €1,300 online.

The Italian e-commerce is going well. The main purpose is: how to approach this market? Like the rest of the world, the m-commerce is growing fast. 33% of the orders were realized through a mobile device (25% on smartphones and 8% on tablets). But some buying patterns are really specific to this market. It is the case for the payment matters. If banking cards represents 65% of the market, did you know that PayPal or the payment via cash (like SisalPay) are also super used? All purchasing habits are important when you want to expand so make sure to perfectly know the market.

What Is Netcomm Forum
Hosted by the Netcomm Association, the Netcomm Forum is THE most important e-commerce event in Italy. During two days, over 12,000 visitors will have the occasion to meet 140 exhibitors, all digital leaders in their respective field. Visitors will also be able to attend 79 workshops to get more insights about the Italian market and the solutions that could help them reach their goals.

Last year, the event gathered 11,800 visitors and 140 exhibitors. To know more about the 2017's edition, watch the video!

Why Should You Meet Us
Beside the fact that our Italian team is super excited to meet you at the end of May, our payment platform can also help you increase your revenue. How?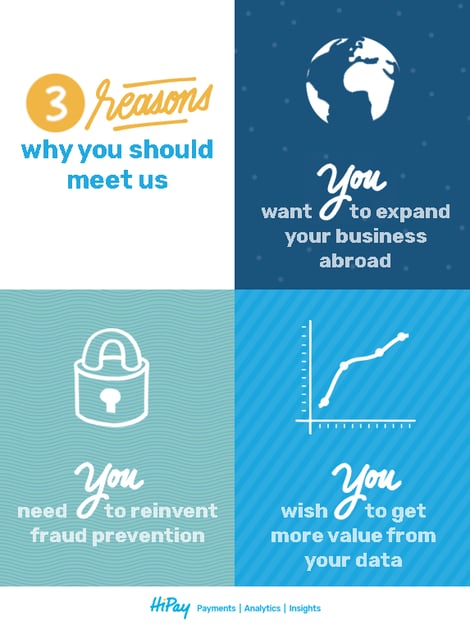 So you got it, if you are an Italian e-merchant or a website which wants to expand in Italy, you MUST stop by our booth at MiCo Milano (gate 14). It's easy to find us: we will have a corner on the Business France's area.

We hope to see you there! If you want to prepare your meeting with our team or if you cannot join us in Milan, contact us :)