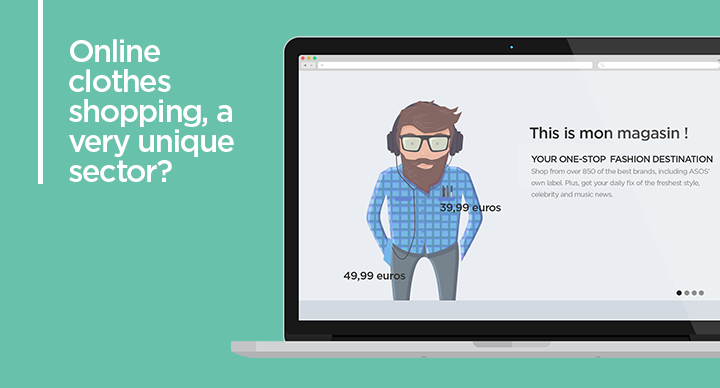 Based on HiPay's analysis of online clothes shopping, this article outlines the key features of this sector, which particularly stands out in France from the rest of the market.
A sector like no other
With more than 17 million French people buying a clothing item in the last 12 months, it is the most important sector in terms of buyers. According to a recent study from Criteo, they spend on average €350 per year in online shopping for clothes.
Besides the fact that the textile sector has a conversion rate higher than the average, it is more impacted by significant events during the year. By comparison, the conversion rate for online clothes shopping shows a relative increase of 41.50% during the sales while its increase is limited to 4% in the other sectors.
Typical profile of French online clothes shoppers
To conclude, French e-shoppers are numerous, but demanding. During non-transactional visits, they stay on average 38.5 seconds on pages (against 34 seconds when purchasing) and tend to scroll more. Yet, when they decide to make a purchase, they want a seamless payment flow.
What about French e-commerce in this sector?
Even if the number of mobile transactions is lower than the worldwide average (26% vs. 33%), the average cart on mobiles is, for its part, one of the best! Two points away from the Japanese while on the same level as Russians, French Internet users' spending is on average 4 points higher on their mobile than on their computer. These good results allow them to beat the first two European e-commerce markets as the Brits and the Germans spend on average 5 points less via their mobile than via their computer.
Which device for French Internet users? The French have a slight preference for tablets. Considered as more practical and readable, this device represents 62% of clothes purchases of the French m-commerce. Therefore, the French stand out from international Internet users, who largely prefer mobiles (65% for the Americans and 82% for the Japanese).
*"4e édition du Baromètre E-commerce : Le secteur textile", Content Square, May 2015
**"Fashion flash report", Criteo, September 2015