As a rising e-commerce, we wanna take a look at how e-shoppers pay in Russia!
Why will Russia Lead the Way in European E-commerce?

It's well-known that the U.K. is Europe's leading e-commerce. We also know that the Russians spent close to 20 million euros online in 2014. While it might not seem plausible, Russia has the greatest potential for maneuvering into first place.
Why? According to Antoine Routaboul from Hermes Fulfilment, "sector growth happens through a combination of three things: growth in the number of Internet users, conversion of surfers to buyers, and a growth in average cart value. If 50% of Russians currently use the Internet (nearly 85 million people), at least 40% of internet users make online purchases. This leaves about 40 million people to bring into the e-commerce circle."
Russian e-commerce was developed to make up for the small range of electronics offered in-store. Nowadays, the range of products online is ever-expanding, with clothes accounting for 16% of purchases, growing at an annual rate of 30%.

What About Payments?

The TNS institute conducted a study on Russian buying habits for the product Yandex. Their analysis covered popular payment methods for e-shoppers between the ages of 20 and 44 who make purchases at least once a month.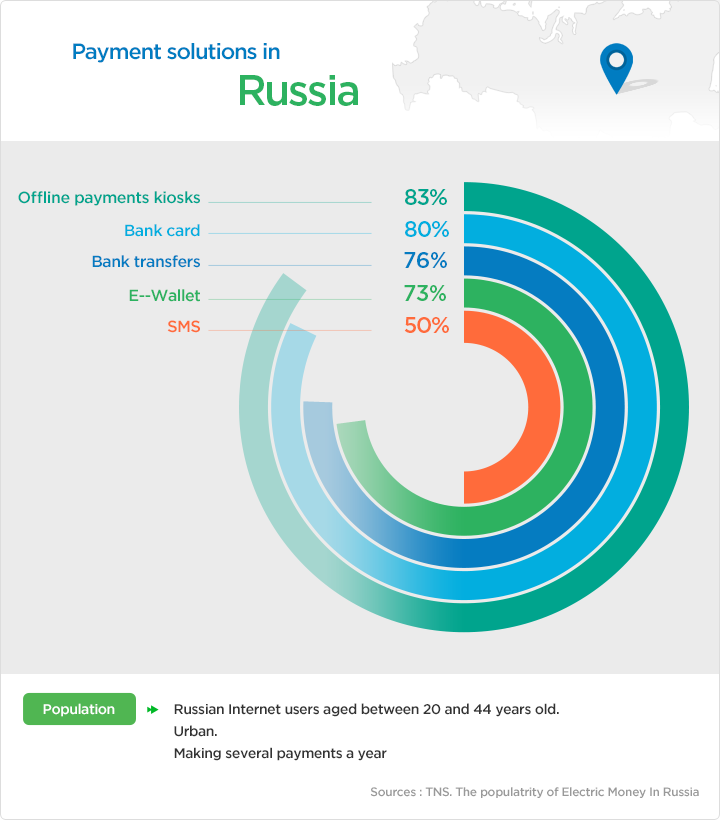 The top payment methods are automated pay stations, credit cards and e-wallets! There are four popular e-wallets used by Russians.

First we have Yandex.Money, the digital wallet developed by the Russian search engine that goes by the same name; it's available on more than 65,000 sites. The second is Webmoney, which has a 9% share of online payments in Russia. 44% and 43% of e-shoppers, respectively, have made purchases using these methods.
Next, we have
QIWI wallet
(36% of e-shoppers), powered by Visa, with more than 16 million active accounts, followed by
Paypal
, which was used at least once by 35% of Russian e-shoppers.
Our advice to you? Tap into the Russian e-commerce market, but be sure to offer methods of payment already popular in the country!