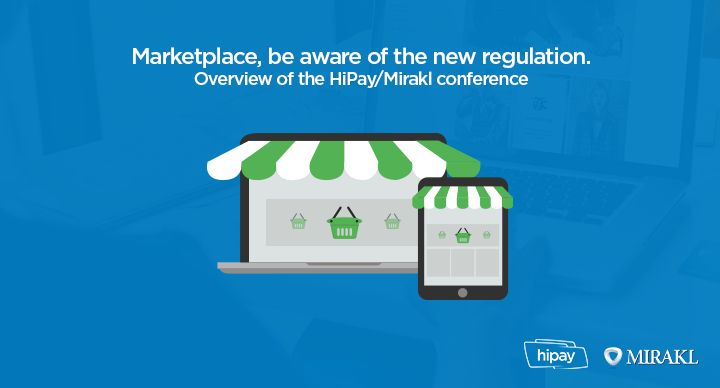 HiPay, in collaboration with Mirakl, organised last Wednesday morning a round of conferences on the regulation of marketplaces. Held in HiPay's offices, this event was attended by more than 80 professionals who wanted to know more about this business model, which is getting more and more market shares everyday.
Cyril Zimmermann, ACSEL President, Adrien Nussenbaum from Mirakl, Laure Baëte, in charge of the FEVAD's Legal Commission, Sandra Gobalakichenin, advisor for the Syrtals office, and Emmanuel Chaumeau, Sales Director in charge of marketplaces for HiPay, exchanged on their experience with the audience. After their interventions, several points have to be remembered.
Marketplaces are becoming a new source of profitability for e-tailers. Today, 10 to 20% of online sales are made via marketplaces, which represent 8% of the total amount of online sales. The 40 biggest e-tailers now realize 21% of their revenues thanks to marketplaces. In the case of Amazon, it is more than 52% of its sales revenues.
It may seem difficult for e-tailers to just bypass this trend. Marketplaces are satisfying e-shoppers' expectations and e-tailers' need for growth.
When it comes to get these new actors compliant with regulations, the FEVAD constituted a working group with the ACPR. As of the second semester of 2016, all marketplaces will have to be registered with the ACPR.
The Syrtals Office presented different options available to merchants. They can register with the ACPR or use a partner, which already has the necessary licences to be able to protect their financial flow, to analyze and follow the different sellers and to facilitate fund allocation.
If you are interested by the subject and if you want to know more about it, read the entire presentation on the HiPay Group SlideShare.