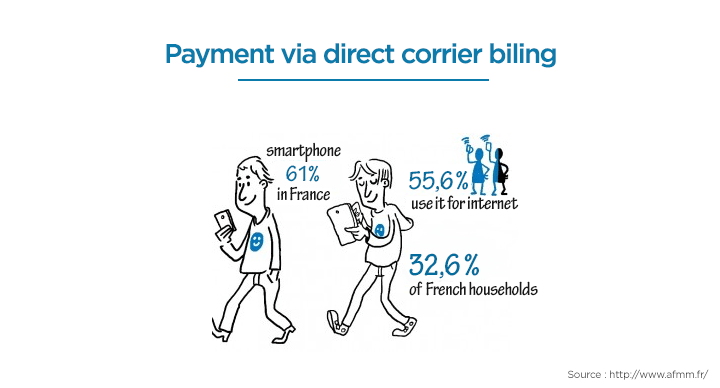 More and more important on the payment market, direct carrier billing is often used to pay for online purchases. To better understand the enthusiasm for this payment method, HiPay gives you an overview of the evolution of French habits in terms of mobile payment.
Today, 61% of French people own a smartphone and almost half of the French population has a tablet. According to the AFMM (French Mobile Multimedia Association), payment via direct carrier billing has generated over 210 million euros of revenues, which represents an increase of 55.70% since 2010. It is therefore correct to say that this payment method is closely related to the growing use of mobile devices.
What is payment via direct carrier billing exactly?
Besides being fast, this payment method is really simple to use and understand: when e-shoppers choose to pay via direct carrier billing (known in France as Internet+ Mobile in France), they are directly charged on their carrier's bill. They then pay all their purchases at the end of the month, when they get their bill.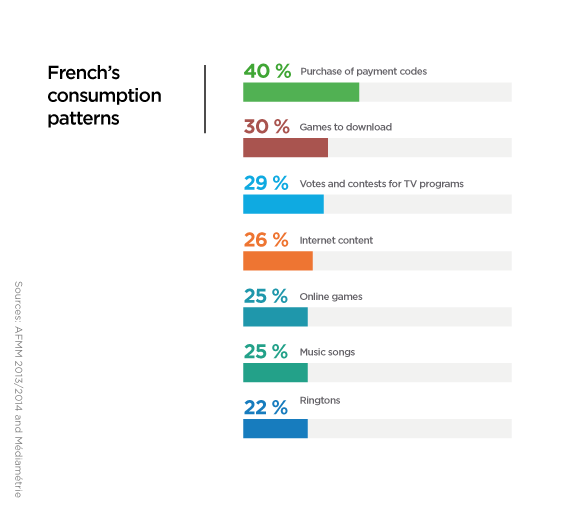 With this payment method, it is possible to buy different types of digital contents: videos, games, books, press articles, applications… French people mostly use it for payment codes (40%), games to download (30%), votes and TV program contests (29%), online content (26%), online games (25%), music (25%) and ringtones (22%)*.
What are the advantages?
This fully secure payment solution is also really efficient: its conversion rate is 5 to 7 times higher compared to bank cards. Let's keep in mind that, according to a survey conducted by Médiamétrie in 2014, "81% of e-shoppers have abandoned their cart at least once when paying with a bank card because of trust (68%) and/or technical (58%) issues or because the form what too long to fill in (36%)". This is a real opportunity for editors and merchants as impulse buying is widely encouraged.
E-shoppers cannot complain either because they do not have to give their banking data to purchase digital contents. It is important to note that if bank card had been the only payment solution offered by the merchant, 66% of e-shoppers would not have completed their transaction. Consumers are reassured and more inclined to make a purchase another time because they consider the solution as fully secure, not to mention that the payment is made in a few clicks.
French people and payment via direct carrier billing
Among French people, who pays with this solution? Mostly adults, aged between 25 and 49, men and women alike.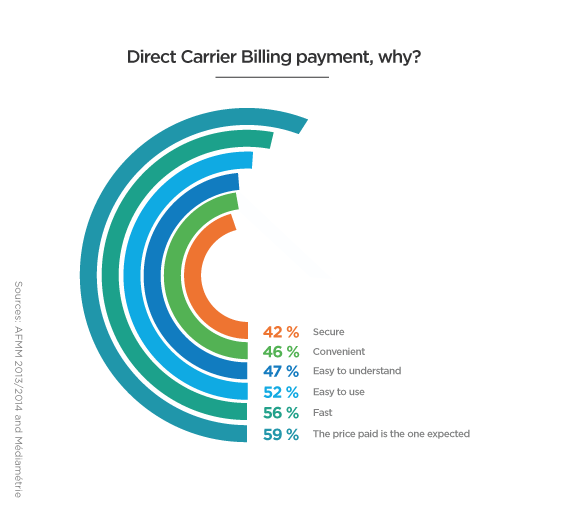 90% of French users are satisfied with this payment method, and 37% of them are very satisfied. Why do they appreciate this solution? Still according to the surveys conducted by Médiamétrie in partnership with the AFMM, French people find this solution easy to use (52%), fast (56%), convenient (46%), secure (42%), easy to understand (47%), but most of all, the price paid is what they expected (59%)! In the world of online payments, these are recurring expectations to which the solution answers with the best satisfaction rates.
Up to what amount are they willing to purchase via direct carrier billing? This payment method is often used for purchases inferior to 9 euros. In fact, under this threshold, buyers generally hesitate to use their bank card. Nevertheless, almost 50% of users are ready to pay via direct carrier billing for an amount up to 15 euros.
Payment via direct carrier billing has therefore several advantages for both merchants and buyers, especially for small-amount purchases. Well aware of this, HiPay, enables content editors and merchants to best answer their consumers' needs by adapting to their online habits thanks to its HiPay mobile solution.
*Sources: AFMM 2013/2014 and Médiamétrie