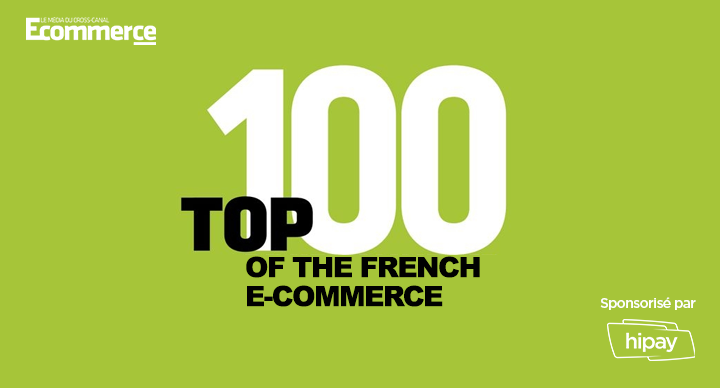 For the 3rd consecutive year, HiPay sponsors the French e-commerce Top 100 published by E-commerce Mag. This ranking is realized by Ginger survey institute and highlights the 100 e-tailers of the year. It is supplemented by a study on the 2015 e-commerce tendencies and allows us to better understand French e-tailers' activity and expectations.
This year, the Top 100 welcomes several new e-tailers like Brandalley, Oscaro or more traditional brands like La Poste (French postal services), Toupagel and La Halle. They have all succeeded, over the years, to impose their presence in the online sales sector. Voyages SNCF, Cdiscount, Air France and Vente Privée stay, for their part, at the top of the ranking. We can also notice a strong presence of the specialized pure players like Alltricks, Bien Manger, Lemon Curve…
The survey also sheds light on French e-tailers' practices. Without surprise, all the merchants' efforts are concentrated on the increase of their revenues (66%) and on the acquisition and retention of clients. They are also 33% to wonder about their business profitability.
41% of our e-tailers are present on an international scale and these activities beyond borders represent 10% of their revenues. French e-merchants choose to go to Belgium, Spain, Italy, the UK and Switzerland. 38% consider to do it later. Among the obstacles named by e-tailers not present abroad, we find:
- competitiveness issues and shipping price (72%),
- logistical organization issues (33%)
- customer service and product return costs (26%).
Those who are not really confident with the idea to sell abroad are numerous to use marketplaces to do their first testing phase.
We also notice that the majority of e-tailers went into cross-channel. According to figures, 38% already started a cross-channel strategy and 27% initiated the setting up. To expand their cross-channel strategy , e-tailers can count on several elements:
- a unique client data base (67% already built it and 19% are working on it),
- an overview of stock and e-stock (67% displayed it and 6% say they are spreading it).
However, only 39% of the brands offer click&collect to their customers, and 10% offer reserve&collect (possibility to reserve an article).
They are numerous to evoke the difficulties to settle a cross-channel strategy. Why? Because of infrastructure management (37%), definition of the strategy (22%) or a code of conduct not defined before (27%).
Despite everything, e-tailers still count on omnichannel to face the complexification of the client flow.
To get French e-tailers' ranking, download the Top 100.