Winning the Italian e-commerce market is one thing. Winning it by reducing fraud on its website and by offering local payment methods is another. To do so, Trovagomme found HiPay!

A story of passion
It's a fact: cars are an institution in Italy. A lot of famous vehicle manufacturers are from the same homeland as Michelangelo. Sparkling Group understands it and offers a large and complete range of tires to aficionados. Over the years, the Group developed strong and ongoing relationships with vehicle manufacturers and automotive suppliers.

A recent e-commerce adventure
Thanks to these relationships and after twenty years in the industry, Matteo Russo launches the Group's e-commerce offer via Trovagomme.it. 2014 marks a new beginning. But it's only in 2016 that the website retains HiPay to manage its payments.

Italy, a country with habits
Until the integration of HiPay, Trovagomme.it only offered its customers to pay by cards. Even it the payment via this method represents 60% of online purchases in the country, Italians also like to pay cash (2% of online purchases).

With HiPay, Trovagomme understood the importance of this specify and implemented SisalPay, the local payment method leader in Italy. Cash payment via SisalPay now equals about 4% of the website's transactions.

Online fraud is at the center of the concerns for the supplier
If Trovagomme chose HiPay, it was in part by its tool designed to fight against fraud. The automotive supply industry is a market favorable to fraud. HiPay Sentinel gives the e-commerce website the best possible odds.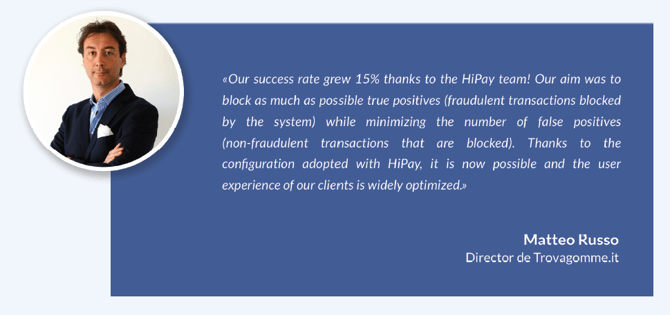 What's next?
To discover Trovagomme's future plans, download the entire success story.