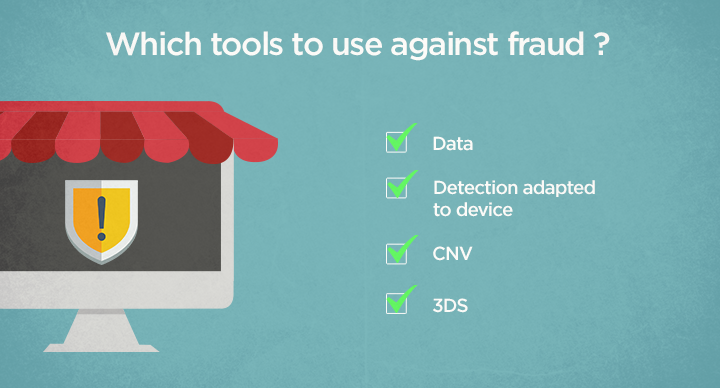 In a previous article, we dealt with worldwide fraud figures. If fraud affects a lot of e-tailers, it is important to know that it is not inevitable and that several tools are available on the market to fight against it. HiPay gives you today information about four of the most used protection tools in e-commerce.
Focus on data
Data are the absolute key to an efficient fight against fraud. In fact, transactions not being directly visible by merchants, data help them to differentiate actual transactions from fraudulent ones. This method is mainly preventive. Nevertheless, this tool sometimes has some limits because, with a too restrictive control, merchants can refuse orders that are not "risky".
Using detection tools adapted to supports
A study reveals that 75% of merchants are now able to detect if an order comes from a mobile or a website. The majority of them use the same detection fraud system. Although this tendency seems normal given the actual craze for e-commerce, it may not be viable yet because mobile commerce is still at an early stage. Unlike traditional e-commerce, mobile channels are able to provide us with far more data and it is surely the next step to be better protected against fraud.
Card Verification Number (CVN)
At the top of the list of the most used tools, we can find the CVN and the negative list. The latter gives details about customers, such as their email address, their name, and even their eventual fraudulent history. Currently, these are the most used tools for mobile devices or websites. The CVN is one of the first tools "against fraud" used by e-tailers and is considered as essential.
3D Secure
Today, 3DS development has considerably increased. As a proof, 37% of e-tailers say they used it, against 25% in 2013. Even if this tool is limited to some markets, the list of users keeps on getting longer. Sometimes rejected by e-merchants as it may has negative consequences on conversion rates, 3DS is more and more adopted. The new dynamic version, associated to the ability to apply 3DS in a selective manner to some transactions, has contributed to improve the use of 3DS.
The HiPay Fullservice module combines several of these tools and offers optimal protection.