The French Tennis Federation, which organizes the French Open tournament every year, has trusted HiPay to manage its payments since 2019. The FFT fights against fraud on a daily basis and needs specific support when opening its box office.
Benjamin Theillet

, the FFT's anti-fraud manager, talks about his experience. In this article, you'll find:
1- FTF challenges
2- HiPay Sentinel: a powerful fraud-fighting tool
3- Watch the webinar
The French Tennis Federation's challenges
Every year, the French Tennis Federation organizes the French Open. As part of this popular sporting event (with more than 520,000 tickets sold in 2019), the organization sells tickets exclusively on its website and must ensure its sales monopoly with various challenges:
Security: ensuring that transactions can be carried out correctly to protect their revenue

Scalability: many transactions are made at the same time, so the PSP of the merchant site must be able to support this increase in volume

Fraud: fighting illegal ticket sales
Significant transaction surges occur over short periods of time, and the FFT needs human support and technical expertise to ensure its sales. As a result, the FFT turned to HiPay, a payment specialist, to address its issues.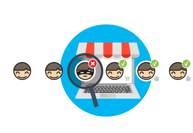 HiPay Sentinel
HiPay Sentinel is HiPay's innovative anti-fraud solution.
Based on payment data, it allows merchants to access a large amount of information in real time. Using these elements, anti-fraud profiles are created: this allows transactions identified as fraudulent to be blocked.
HiPay Sentinel offers merchants the ability to fight fraud while avoiding impacting their conversion rate, and is PSD2 compliant.
How does the tool work?
HiPay Sentinel maximizes transaction security while minimizing conversion losses. The tool identifies fraudulent or risky behavior and triggers an alert if necessary to secure transactions. Thus, legitimate clients are not blocked.
Sentinel is very effective, particularly through its 80 anti-fraud criteria. A unique and personalized fraud profile is created for each merchant. Our tool can be adapted to any activity type and company size and for different times of the year: numerous exchanges are organized between our fraud analysts and the merchant to discuss the specifics of their activity and the resulting needs.
In the case of the FFT, after several years of collaboration, our experts have a track record and can more easily identify fraudulent patterns.
To go further in this approach, we also offer the "Custom Data" option: merchants can integrate any data they have directly into the anti-fraud tool (for example the creation date of customer accounts), all in compliance with GDPR.
Benjamin Theillet, the FFT's anti-fraud manager, quickly understood the power and flexibility of HiPay Sentinel.
Result: Our tool's excellent responsiveness allowed the FFT to block more than 1,300 fraud attempts, to protect its legitimate customers and to observe a very high conversion rate with only 0.05% of false positives!
Support is a strong value at HiPay
Support is a key element for us, which is why each merchant has an account manager and a technical advisor.
HiPay has regular discussions with its merchants: the Account Managers carry out regular activity reviews (quarterly or bi-annually according to their needs) in order to look ahead, review activity and propose areas for improvement.
In the case of the FFT, meetings are held prior to the commercial operation to define the preventive rules to be established. The HiPay and French Tennis Federation teams regularly exchange information to anticipate the box office opening, as well as on the launch day to analyze transactions and adjust the anti-fraud profile if necessary.
In fact, HiPay mobilizes a management team that is fully available for all French Open teams (fraud, customer service and technical services).
Responsiveness is key for the French Tennis Federation: tens of thousands of transactions are carried out in one day.
Benjamin Theillet expresses his satisfaction with the service's support and quality: "The fact that there is a dedicated team, both in advance and on the day of, is a real plus for us. There is a genuine addition and a genuine sharing of information. [...] We have gained expertise and fluidity".
Watch the webinar
Would you like to implement an anti-fraud solution and turn it into a lever for your e-commerce? Contact us!