E-commerce continues to be a key part of the retail environment.
In 2019, e-commerce sales made up 14.1% of total sales
Globally, the retail e-commerce market reached an incredible $3.5 trillion in 2019
The e-commerce share of total global retail sales is expecting to grow by 2% per year, to reach 22% in 2023
What are the main trends that will drive this expected growth ?
We have found the top 10 e-commerce trends for 2020

Social Selling
Social selling allows vendors to connect with prospective customers through their social networks. It's a more natural way of making contact than cold calling and allows businesses to generate inquiries from interested prospects already in buying mode.
The Instagram shop already offers to the users to shop directly in the app.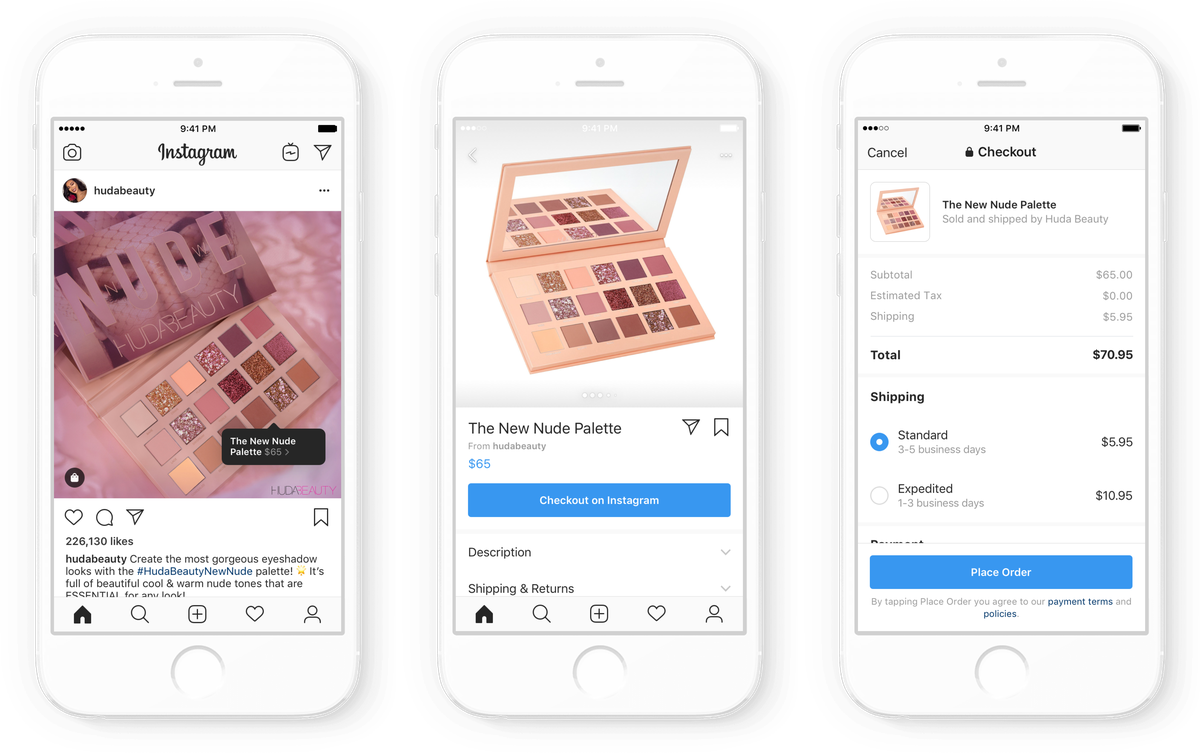 *instagram's checkout feature. Src : Fashionista.com
The user journey is made to get the most simplify user experience, without switching from a app to another or to a website.
Unified Commerce
Today's consumers want more flexibility, but they also want to get a taylormade experience. The experiences brought by an solution of unified commerce, as the click and collect, the omnichannel refunds and all of the others user journeys that will allow the retailers to top saying "no" to theirs customers are the growth levers of 2020 !
Chatbots
A chatbot is a computer program with the ability to simulate a conversation with a person to complete a service. They are used for purposes such as offering customer recommendations for related products, supporting them and completing their purchases. As social selling, selling through a chat bot is part of what we now called "contextual commerce". Research has shown that buyers are becoming more comfortable with interacting with them, which makes chatbots a valuable tool for increasing sales.
Digital Native Vertical Brands
Digital Native Vertical Brands (DNVBs) are brands that originate online. They bypass the brick-and-mortar store approach. Products move from a manufacturer directly to the consumer, which means there is a much larger potential budget for marketing than for a traditional retail business. There is also the potential to make a higher profit as well.
Virtual Reality and Augmented Reality
Many e-commerce customers place items in their carts and then abandon them before completing their purchase. Virtual reality and augmented technology could play an important role in helping turn browsers into buyers. Customers will be able to browse through virtual showrooms to get a better idea of what products will look like and visualize them in "their" space. Once customers get a taste for these sales tools, they will return to your website to try them repeatedly to discover new offerings.
General Data Protection Regulation
GDPR (General Data Protection Regulation) specifies that companies conducting business in the European Union can collect and analyze personal data. Consumers have the right to know if their personal information has been compromised. E-commerce websites that are not compliant to the GDPR and where the consumer can't decline their data collection will get less and less customers.
Delivery
The delivery is one of the keys of a successful ecommerce website, in 2020 too.
Customers want to receive their e-commerce deliveries faster and more conveniently than ever. They are interested in seeing multiple options at checkout to choose from, such as their home, office or a local business that can provide a safe, convenient place to accept deliveries for pick-up.
PSD2
PSD2 is a European regulation for electronic payments and it was put into place to decrease fraud and to bring more security, for customers and retailers.
A transition period has been set by the European Banking Authorities until the 31 of December 2020, to allow all of the stakeholders (retailers, ecosystems companies, online shoppers etc.) to test the scenarios and the data collection.
Cross-border Selling
Bet on the cross border e-commerce is one of the best lever to activate in 2020, if not done yet.
By translating your ecommerce website in few languages and by offering the right payment methods, you could increase your sales.
Find here all the articles about the different payment methods to accept.
To get more information, contact us!
B2B Marketplaces
Following the BtoC marketplaces, now the BtoB marketplaces are trendy ! The BtoC consumer's habits are now reaching the internet BtoB world : marketplaces, new user journeys, your professional customers want to get the same services that the ones that the get when they do online shopping for them.
Amazon is the leading B2C platform in the world. E-commerce sellers can promote their products and reach new customers on similar platforms geared toward business customers. Several are currently up and running, with names like Amazon and eBay already running separate e-commerce platforms.