The Polish e-commerce market is a specific market where payment is a crucial factor. HiPay explains all that you need to know concerning Przelewy24, Poland's bank transfer service.


Polish E-commerce, an Expanding Sector
The e-commerce sector in Poland has developed rapidly. Between 2011 and 2012, it grew 30%! Increased online consumption, easy access to broadband, development of alternative payment solutions… there are many reasons for this growth, making Poland an ideal place to implement an e-commerce strategy!
This constantly evolving market can no longer be neglected by investors. In 2014, Polish e-commerce was worth more than 5.2 million and was comprised of over 10 million e-shoppers. Nevertheless, the Polish are strongly attached to their country's e-commerce sites which they prefer to cross-border sites for security and data reliability reasons (18%).
Concerning payments, 42% of Polish pay for their online purchases through bank transfers. The teams at HiPay understand and have effectively addressed the needs of Polish shoppers, which is why the integration of Przelewy24 in their online stores is simple and rapid!
Some Przelewy24 Figures
Przelewy24 is the primary online payment method in Poland, as 90% of online purchases are made through bank transfers. This payment method provides a secure and fast bank transfer process free of charge.
Przelewy24 is used by almost 148 banks in Poland. When a purchase is made, funds are transferred directly to the merchant with Przelewy24 after customers are connected directly with their bank to make a purchase.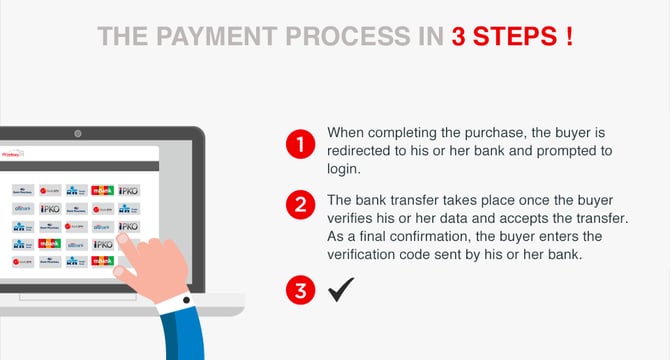 Contact us to start accepting payments in Poland with Przelewy24 & HiPay !