March 2020 sounded the death knell for French brick and mortar stores. The lock-down began, and physical stores closed their doors until further notice.
Stores have now reopened, but the effects of the pandemic linger. Forrester Research predicts a €260 billion decline in retail sales across Europe in 2020.
Unified commerce, now more than ever
"Covid-19 will accelerate the digitization of retail" comments David Cohen, COO of @HiPay.
An underlying trend in recent years, unified commerce is becoming fundamental to the survival of physical stores.
Gone are organizations silo-ed by sales channel, where each channel is operated separately and where websites and stores echo the cannibalization of networks.

"Sales channels must complement one another more than ever before. Merchants need to offer fast, flexible purchasing processes, where consumers can switch smoothly between channels, for a seamless shopping experience," continues David Cohen.
These days, brick and mortar stores are becoming a gateway to e-commerce. Where the online customer experience is limited, physical stores offer a personalized shopping experience. They can also offer an alternative to delivery services that have shown serious deterioration.
Buying journeys
Unified commerce makes it possible to implement multiple paths to purchase.
Here are a few purchasing paths we have identified to encourage consumers to visit brick and mortar stores:
E-commerce has many advantages, but it lacks the in-person experience and personal recommendations that can be made in a store.
Virtual or in-store appointment scheduling increases conversion rates. Sales associates can answer the customer's questions and offer advice.
Appointments can also help organize in-store traffic better, to comply with social distancing rules and make your customers feel welcome.
"Scan as you shop" technology lets customers scan their own purchases in a store and then pay for them right on their smartphone, without going through the checkout line.
Not only does this save time for the customer, but in a pandemic, it also limits physical interactions with payment terminals, credit cards, and other payment methods.
"Scan as you shop" will also help to relieve congestion in the checkout area, freeing up cashiers to serve as salespeople.
"Ship from store" allows retailers to continue generating sales in their brick and mortar stores, mitigate online inventory shortages, improve stock rotation, and optimize product delivery.
Customers can purchase a product online that is available in a store. The store will then ship the item or deliver it directly to the customer.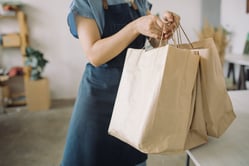 Unlike click and collect, the ship from store concept requires unified e-commerce and physical inventory. A customer must be able to seamlessly buy a product that is out of stock online but available in stores - and vice versa.
Payment kinematics of these new options
The payment service provider is central to a unified commerce strategy and the subsequent implementation of the purchasing paths described above.
There are several payment kinematics that support this:
MO/TO payment (Mail Order / Telephone Order): This solution allows a salesperson to check out a customer directly from their phone or a sales tablet. Only a credit card is needed from the customer. The salesperson simply connects to the payment interface and enters the customer's card information to process the payment. The customer then receives a receipt by text or email.
Payment URL: HiPay's generated payment URL is a fully compliant PCI DSS solution for remote payment collection. It meets the requirements for many unified commerce scenarios. The payment URL can be sent to customers by text or email. Retailers can monitor the transaction in real time, and if necessary, they can offer the customer telephone assistance to help the transaction go smoothly.
The key role of the PSP to set-up these payment scenarii is:
To secure the payment step: Remote payments can be risky. The authentication of the transaction is more complex and the risk of fraud is higher. That's why you have to use a solid fraud solution and reliable tools that will allow you to authenticate french and international bank cards ( validity date, payment information, payment conditions etc.).
To insure a good User Experience: A good user experience is essential to satisfy your customers. And to reach this goal, your

payment page

should be responsive and should reflect your brand. The third point to get a cool ux is also to provide your users with the right payment methods (local payment methods, wallet etc.).
To manage the remote transactions: by using a PSP, merchants can access a

100% secured management interface

, where all the transactions are centralized, whatever the sales channel (MO/TO, physical store etc.). This tool allow the merchants to act on the transaction in real time (cancellation, refund etc.).
To make it easier: As payment experts we help merchants with our turnkey solutions, easy to integrate and adaptable for all types of businesses. It's now easy to find new alternatives to the traditional in-store payment way.
Are you interested in setting up remote checkout solutions to offset the lower number of visitors to your brick and mortar stores?