Even today, many merchants are still hesitating to make the shift to digital. Cost, skills, or even corporate culture are often the main reasons that hinder this transition.
Yet there are simple and safe alternatives to help retailers create new shopping experiences, attract new customers and build their loyalty. Explanations.
In our article: Covid-19 and Retail, a look back at the purchasing routes that boost in-store flows, we talked, among other virtual venues, about Ship from Store..
These purchasing paths have one thing in common: remote payment.
As a first step in the digitalization of points of sale, remote payments are one of the essential levers to ensure the development of your commercial activity.


Selling remotely with a virtual POS terminal
Distance selling is a dematerialized sale that is generally carried out via telecommunication (internet, e-mail or telephone). It allows a seller to accept and collect a payment without the physical presence of the buyer.
With a virtual POS terminal (the dematerialized version of the physical credit card reader available in stores), you can collect payments from your customers remotely using a bank card.


WHAT ARE THE ADVANTAGES OF USING A VIRTUAL CREDIT CARD READER?
This solution allows transactions to be accepted from an e-mail, mobile phone or online site and allows merchants to go beyond the walls of their physical point of sale, making the act of buying easier and more attractive.
Backed by HiPay's technology, you benefit from enhanced security on payment transactions (PCI-DSS certification), regardless of the route used.
As with payments by check, cash or bank transfer, the virtual credit card reader allows you to make claims by email or by telephone (MO/TO) while offering a wide choice of payment methods (Carte Bleu, Visa, MasterCard, etc.) and with complete control over the entire transaction process.
The virtual credit card reader is a real backup tool if you are currently equipped with in-store credit card reader: in the event of a breakdown or loss of connection, it ensures continuity of service and business activity.
A simple and affordable solution
Once you have signed up with a payment service provider such as HiPay, you create a new sales area quickly without complex technical investments or additional hardware.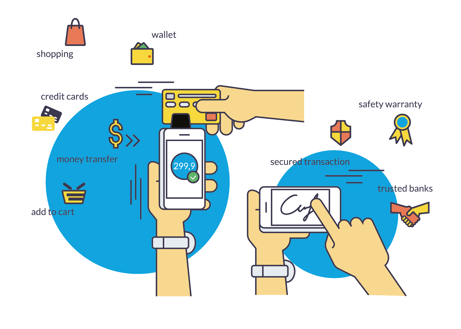 HOW DO I GET STARTED WITH E-TERMINAL BY HiPay?
E-terminal by HiPay is the ideal solution to get started in distance selling. Once the account is activated, everything is done in a few minutes directly from your new administration interface.
The merchant retrieves the customer's order and enters this information into an online payment form in the virtual terminal module.
The merchant retrieves the customer's order, enters this information into an online payment form in the virtual credit card reader module and then generates a payment link that is sent to the customer by email.
In both cases, once the purchase is made, the customer receives a confirmation of success (or refusal) of the transaction.
As you can see, distance selling is a relevant but also practical channel when it comes to offering additional shopping experiences to a physical business. A smooth transition to e-commerce that guarantees great opportunities.