Digitization and the resulting transformation of work have brought the concepts of agility, personalization and mobility to the fore. These principles attempt to meet the new needs of professionals who now have a plethora of tools and data, and for whom navigating this mass of information is a challenge.
Design and UX (user experience) are the key to overcoming these obstacles and effectively deliver an agile, personalized and nomadic experience to platform users.
Focus on 3 ultra intuitive features available in HiPay Console for an easy, yet powerful, user experience.
Highly customizable dashboards.
Dashboards are a must have for any software. Often used as a home page, they allow users to track activities and KPIs at a glance. But for this tool to be truly useful and relevant, it must be customizable, while meeting a dual requirement, that of agility and ease of use.
The HiPay Console back office dashboard is very intuitive thanks to the use of widgets. +30 widgets are available in the widget store (depending on the users rights), just click on one of them to add it to your dashboard and use the drag and drop functionality to place it wherever you prefer. Et voilà!
Four types of widgets are available in HiPay Console to meet all needs:
KPI: Key Performance Indicator ;
Activity: graph illustrating a trend;
Shortcut: displays a table with the latest operations, transactions, etc. ;
Ranking: displays a table ranking the latest operations, transactions, etc.
To go further, just expand a widget to display more data and customize it by selecting, for example, an account or an analysis period. This will make it possible to compare two accounts on a key indicator or to compare two specific periods (current month vs the previous one, for example).
Each widget also offers a shortcut to its associated data, which helps save some precious time!
A tool available on all platforms, anywhere and anytime, thanks to device responsiveness.
Some professionals are more or less often on the move, and want to be able to continue to access their payment data even away from the office. Others must be able to consult at any time and in real time the key information of their activity, for example during an event, both physical and digital. Or, an emergency can happen at any time and require immediate attention, wherever you are.
To meet those needs, a payment platform back office must now be device responsive. This is the case with HiPay Console, which adapts to all browsers on any mobile device: it works on a tablet, but also on a smartphone running on any operating system (iOS / Android).
Furthermore, HiPay Console does not require any prior installation or requirements to run.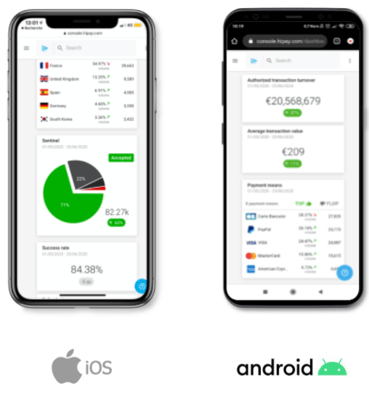 Simple information sharing that keeps selected views.
We already talked about the importance of personalizing searches and their results in a previous article. But interesting data is meant to be shared, and the way they have been organized highlights information relevant to each use case. It would be a shame to lose this organization.
With HiPay Console, the sharing of information between users is done quickly and easily thanks to a URL system integrating all useful data. In addition to the search filters, the organization and size of the columns are recorded within the URL. By sharing the URL of your search with collaborators, all your associated settings will be kept when they open it.
For GDPR compliance, rights management remains active when users share their URLs, and the data displayed will adapt in order to meet the constraints relating to sensitive data.
Check out this other blog post to dig deeper and discover 4 intelligent innovations essential to payment experts. And do not hesitate to contact us if you want to discover HiPay Console!