Last decade's big thing, "big data", generated an unprecedented amount of data. But infobesity has become a real issue for many businesses. Making sense of all the information available and getting the best learnings from it is today's challenge.
Technology must therefore evolve, gain in agility and intelligence, while remaining intuitive and accessible to anybody. In the area of ​​payment, "Smart Data" should allow experts responsible for transactions analysis and the accounting and financial management of payment operations to easily leverage data. Discover 4 types of innovations available in HiPay Console, and making it a truly intelligent back office.
Adaptive research: from quick to expert search.
Researching completed transactions is a central part of the work of payment analysis and accounting management. If you have a poorly optimized tool, this research can be tedious and waste a lot of time. It is therefore essential that your payment service provider offers you a back office with an intelligent search engine.
As such, HiPay Console's search engine offers an intuitive search experience as you type. In order to optimize searches, the interface displays many parameters and features such as autosuggestion, search history, and specific search tips.
To refine complex requests, the tool also offers more than 70 filters to search from various fields: payment, transactions and operations, customers personal information, order and basket ...
These filters can also be combined to create your own search formulas thanks to the use of Boolean operators such as AND / OR, shown in the smart search field of the navigation bar.
All these features help meet the users' daily needs, whether it's a quick and easy search to check some information, a frequent search that is already saved, or an advanced search crossing several filters.
Optimized data digging: one click is all it takes.
Once the list of transactions is found, it is time to get the specific information you want on it. Then again, easily organizing and navigating your data is essential for productivity (and nerves), but at a time when so much data is available, finding the one that matters can be a challenge.
To do this, HiPay Console displays a statistics banner above the list of transactions highlighting some key information: the authorized, captured and refunded amounts. And it is automatically updated with the filters users apply to the list of transactions.
Sorting data in alphabetical / numerical and ascending / descending order is also possible on all columns of each results table, and the list of transactions automatically adapts accordingly.
To bring out the wanted information in a more useful and relevant way, filters can also be combined with data sorting.
And the tool's intelligence does not stop there, since numerical sorting on numeric columns takes into account currencies and exchange rates according to the preferred currency.
Right-click intuitiveness.
On the internet, as with operating systems office suites, we are used to browsing faster and performing certain commands quickly by using the right click. However, this function is absent from most SAAS softwares.
HiPay Console allows its users to find this familiar function again. In a search results table, the right click allows you to filter a particular data on the whole results table and access the following possibilities:
Explore data similar to the one selected,
Explore other data that exclude the selected value,
Copy this value,
Open this transaction in a new window.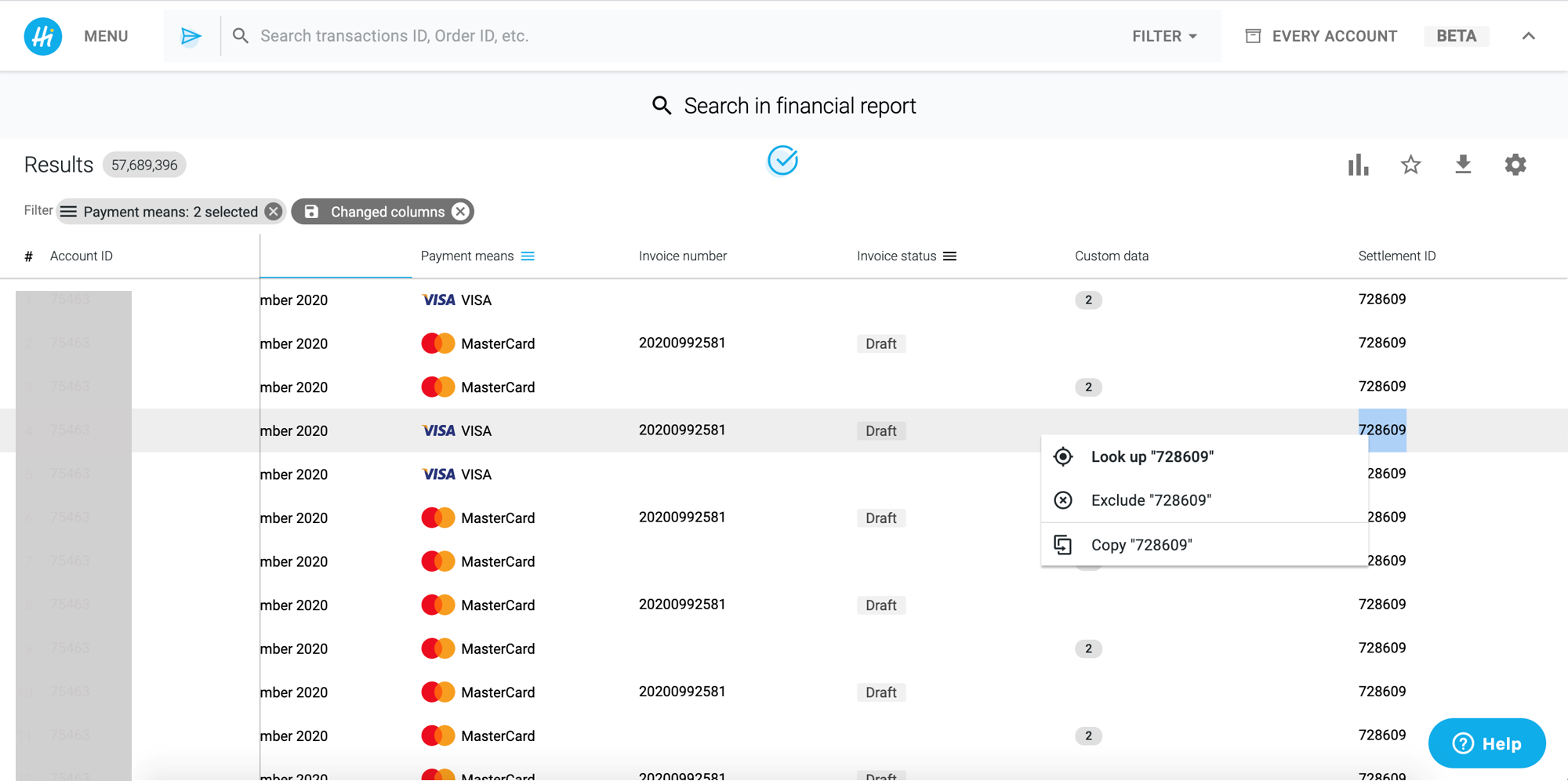 Right-clicking optimizes users' search time: it acts as a shortcut and can be used, for example, to view payouts on the same ID, as shown in the screenshot below.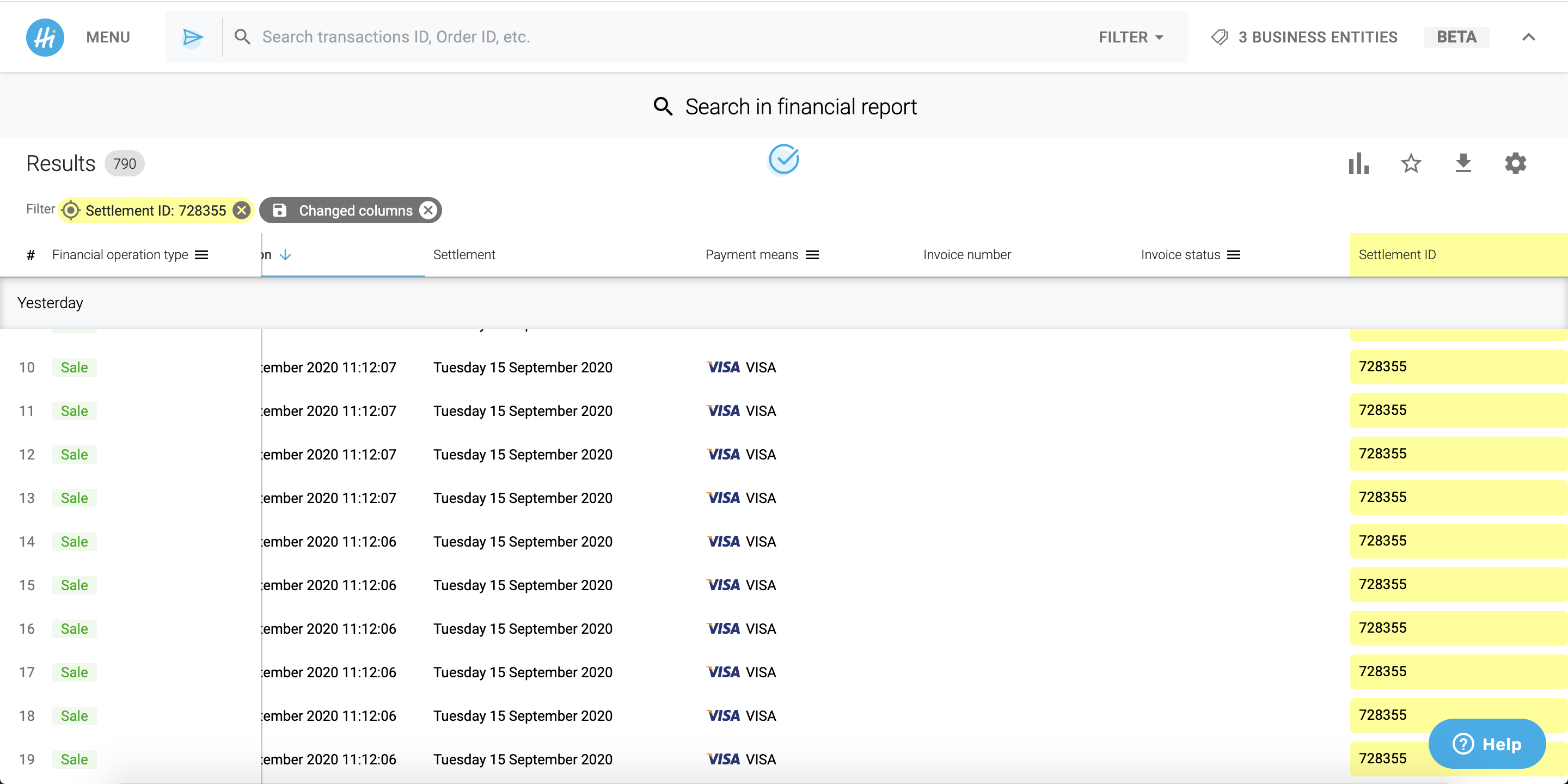 The contextual menu obtained by right-clicking, combined with the other features offered by HiPay Console such as filtering or sorting, allows you to go further in research and analysis, faster.
Smart and personalized export of payment data.
The export functionality is a must for any data management software. But without configuration agility, reprocessing exports can be necessary to be able to use the data that really matters.
With HiPay Console, users can very easily export a specific research, choose the export frequency and share it with their team. All it takes is one click, directly in the transactional or financial module. The export file contains the precise search results (number of results, selected sorting and columns, and identical order of display), and takes into account the user's parameters (language and associated decimal and date format, with corresponding time zone).
For financial analysis or to monitor a specific subject, some reports must be carried out on a recurring basis: being able to configure and automatically receive certain exports at regular intervals is therefore a real benefit. With HiPay Console, users can configure the recurrence rate of their automatic export, its name, as well as its CSV separator field, and receive it directly by email. If the export is too large, users receive an automatically created link to a secure web server.
In order to facilitate GDPR compliance, the export button is protected by a specific access right and is visible only to rightful owners. As the export function adapts to users rights, personal data may be hidden from some of them.
Want to know more about the new HiPay Console back office? Go here or here, or contact our teams to try it out!