Adapting to the pandemic

The COVID19 pandemic has altered the shopping experience significantly, and French shoppers are rediscovering a variety of buying options via e-commerce.

Ordering online allows e-shoppers to enjoy numerous advantages, such as a wider selection of products and simpler delivery methods.

In the current situation, stores must choose the right alternatives if they want to accelerate their sales. Unified commerce is the best solution for attracting customers. Continuing to provide service to customers in this difficult time is our primary concern. Choosing unified sales channels opens up many possibilities for retailers. For example, supplying sales assistants with tablets helps them give customers better advice, while also providing them with real-time access to the entire catalog from their point of sale. They can suggest additional products with different delivery options. In this way, unified commerce represents a significant growth driver for their boutiques.

Many retailers have realized this, and are responding to evolving consumer habits by providing a unified shopping experience.

In this article, we'll take a look at how Jules, Okaïdi and Décathlon have made changes during the COVID-19 pandemic to further their digital transformation.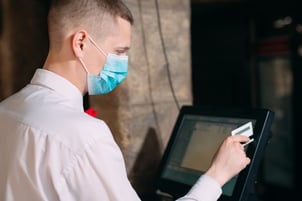 New consumer expectations
Consumers expect retailers to offer new buying options that improve in-store flow, particularly:
Remote sales.

New payment methods (contactless, links, etc.).

Quick and easy in-store pick-up (

click and collect

, etc.).
Fast, easy purchasing, and a wide selection of available products, are essential factors in the decision to shop at a given boutique.
It is in retailers' best interest to implement a unified commerce strategy in order to remain agile and offer a variety of services that will increase customer satisfaction.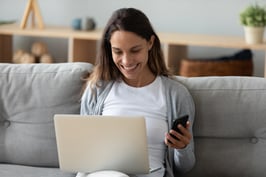 Unified commerce: implemented solutions
When we spoke with Okaïdi, Décathlon and Jules about their digital transformation, we realized that each company had to make the right choices for its specific business structure and organization.
Each of the three companies faced a unique situation:

Okaïdi
In order to meet evolving expectations, Okaïdi decided to eliminate the gap between its web channel and its physical stores by offering:
Remote selling (100% remote sales with no physical contact between the salesperson and the prospect).

E-booking, particularly to facilitate cross-selling.

In-store ordering (placing an online order from a physical store).

In-store appointments to optimize customer flow.

Ship from store, which allows customers to buy a product directly online, and lets the store that has the item in stock handle the shipping.

We've actually noticed that ship from store is becoming a popular choice.

Transferring inventory directly from one store to another is also an option. This provides greater flexibility in meeting consumers' needs.

When it comes to Okaïdi's sales techniques, the company has opted for remote sales. It has also begun offering contactless payment.

The chain is trying to address various challenges, including digitalization, by creating a single channel with transparent buying options for its customers.

Being agile and responsive to the new needs of its consumers has allowed Okaïdi to gradually implement a unified commerce solution.

Décathlon
Taking swift action in response to the pandemic, Decathlon added curbside pick-up to its buying options back in March. This required the use of high-performance digital tools that could be deployed quickly to facilitate the buying process for customers. It allowed the company to adapt to the first wave of the pandemic. Then, Decathlon analyzed the various possible scenarios to come, in preparation for the second quarantine. Now, to meet increasing demand, the company continues to add curbside pick-up locations, and has equipped its sales staff with tablets.

Its goal is to be able to provide customers with the same offers and information across all channels, which is one of the benefits of a unified business strategy with a centralized data system.

Jules
As soon as quarantine began and its stores were closed, Jules decided to put its website on hold in order to prepare for what was to come. Three weeks later, the company reopened its virtual business unit in response to customer demand, offering only the stock available in its warehouses. The lifting of restrictions later allowed Jules to reopen its physical retail locations using a unified inventory system (inventory had been running out quickly).
The company reinforced these buying options:
Ship from store

Click and collect

Local pick-up
The sales team also received additional training on handling the logistics (order receipt/preparation, dispatch and stock management).

Offering several buying options through implementation of a unified commerce solution has become a top priority, since these new purchasing behaviors will continue as time goes on.

Choosing a unified commerce strategy is crucial, and HiPay is here to help. Find out how La Grande Récré digitalized its retail locations.

Contact us now!