The pandemic is accelerating the digitalization of points of sale, making it necessary rethink the shopping experience you offer your customers. During lockdown, e-commerce came to the rescue and offset the closure of physical stores. Consumers were able to test new, unified buying experiences, and the feedback has been appreciative and accepting.
Unified commerce puts the customer at the center of the buying experience with a strategy of centralizing and unifying channels. New omnichannel experiences are made available, redesigning the customer experience.
Deployment is complicated, however, permanently overhauling your structure and organization. Technical deployment, interaction between your service providers, internal reorganization, and team training all become crucial issues.
At HiPay, we review your project to provide a clear response to your needs. Once the solution is rolled out, you'll benefit from premium support by experts working to continuously optimize your strategy.



THE PAYMENT DATA NEEDED TO ROLL OUT NEW BUYING EXPERIENCES
By combining channels and synchronizing payment data from physical stores, the web, and your other sales channels, you can evaluate your consumers' behavior through omnichannel analyses. Payment data analysis is an innovative and essential tool for activating new growth opportunities for retailers.
For example, you will be able to identify a customer who is buying online for the first time, but is a loyal customer at one of your stores. You can also pinpoint where to open your next physical store. You will also be able to identify purchasing paths and experiences to implement to increase your sales:
Accepting payments on tablets will allow you to offer more products, monitor demand more efficiently, sell items that complement purchases, choose your delivery method, and relieve congestion at the checkouts.
Click and collect will let you sell items online from a physical store's inventory and also promote cross-selling. A must-have during the pandemic.
Similar to click and collect, e-booking will make cross-selling easier. It has the added advantage of offering consumers the option to pay in the store.
A virtual POS termninal, with the E-terminal by HiPay, lets you check out customers remotely.



UNIFIED COMMERCE IS A REAL LEVER THE FASHION INDUSTRY
According to Selvane Mohandas du Ménil, Managing Director of the International Association of Department Stores, the fashion sector lags behind when it comes to digital sales and marketing processes, despite online strategies and a strong social media presence. He adds that sales dropped by 53% in March 2020. Yet online sales of fashion clothing and accessories account for 12% of household sales. (Find the full interview here)
To win back customers, unified commerce is essential. Retailers need to offer fast and flexible shopping to simplify the customer experience.
HiPay provides you with the tools to offer your customers a smooth payment experience that meets their expectations.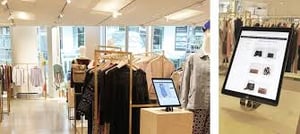 Régis Pennel, founder of L'Exception said:
"L'Exception chose HiPay because we were looking for a PSP that would allow us to roll out a fullly omnichannel model. With HiPay, we can offer a wide range of online payment methods, including multi-currency international payments and country-specific payment methods. We also use HiPay to process all the store's transactions. We were able to centralize all of our payments in a single back office, which makes management much easier. Thanks to the omnichannel model, we can offer innovative services for our customers, like click and collect, e-booking, and in-store refunds for online purchases. For us, there is no longer any difference between an online purchase and an in-store purchase.
Technical support is also available, and they respond very quickly when we have questions. We also have a dedicated account manager who gives us regular business reviews and helps with service improvements to better suit our needs."
Are you interested in deploying a unified commerce solution? Let HiPay help you make the most of your growth opportunities.